22nd June 2022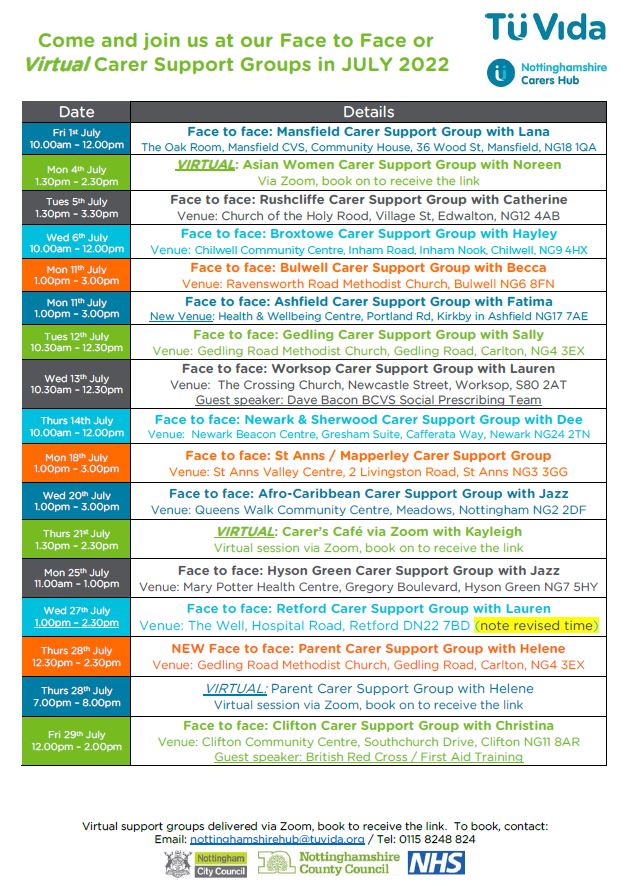 We have 14 face to face carer support groups this month, some with guest speakers, across Nottinghamshire and Nottingham City and 3 virtual groups via Zoom.
We also have some training and mindfulness sessions running in July – please see information below.
Please see below for more details. If you would like to attend a group please get in touch: nottinghamshirehub@tuvida.org / 0115 8248 824.
We also have the following training / support sessions running in July.
Wellness Wednesday's with Inspire is back! (please see attached poster)
A four week programme each Wednesday in July.
Time: All sessions, 1pm-3pm
Via Zoom (email link sent the day before each session)
Week 1

Wednesday 6th July

Recognising emotion & stress

Week 2

Wednesday 13th July

Developing confidence, assertiveness & rapport

Week 3

Wednesday 20th July

Coping strategies & experience

Week 4

Wednesday 27th July

Self-care & self-awareness
Inspire Learning
Who Cares? Tools for managing and coping
Face to face support session from Inspire
Effective coping strategies / Self care / Understanding emotions / Change psychology
Newark Library – Friday 15th July – arrival & refreshments 9.00am, support session 9.45am – 12.00pm
Moving and Positioning
The Moving and Positioning course teaches the principles of physical movement and manual positioning of a person, how injuries are caused and how to prevent them and how to safely perform moving and positioning tasks.
Wednesday 27th July – 10am to 3pm
The course will be delivered by Fosse Healthcare at their Mansfield training venue:
Millennium Business Park, Chesterfield Road North, Mansfield NG19 7JG
To book your free place on any of the above, call Carers Hub 0115 8248 824 / or email: nottinghamshirehub@tuvida.org
Information for Carers from other Service Providers:
Carers Space Notts – Carers, we need your help!
Do you provide unpaid care for a loved one living in Nottingham or Nottinghamshire?
Can you commit to a fortnightly online meeting or telephone call?
We need you... To have your say in the design of carers' services across the city and county.
We are talking to carers and feeding their views into the plans for commissioning carers' services. We need to hear from carers of all ages, including young carers and working carers, and all backgrounds.
Make sure your voice is heard.
To find out more or to get involved please email: helen.yates@nottinghamshirecarers.co.uk
More information on Carers Space is available on their website: https://nottinghamshirecarers.co.uk/carersspacenotts
Ashfield Innovation Network Event
Thursday 7th July 2022; 10am till 2pm
@ ATTFE College
Idlewells Shopping Centre, Sutton-in-Ashfield
Do you have social care needs? Isolated? Lonely? Need support? Want to attend a course, group or other activity? Want to get involved in your community?
Come along to find out what support is already on offer and to give your views about what courses, groups and activities you would like to see in Ashfield.
All welcome.
Two's Company Befriending Service - Kirkby and Sutton
Two's Company is a telephone befriending service for those who are lonely/isolated at the moment in Kirkby and Sutton. People can self refer, or be referred by an organisation. It is for any age or social background, anyone who just needs a friendly call.
Please call for a friendly chat
Freephone: 0800 999 1264
Email: twoscompany@ashwoodchurch.org.uk
More information is in attached flyer.
Can you help to improve online information for people with musculoskeletal problems in Mid-Nottinghamshire?
Please see attached an opportunity for citizens in Mansfield, Ashfield, Newark and Sherwood to get involved to help inform the development of a website to support people with musculoskeletal problems.
Please share with your contacts and networks who may be interested in getting involved.
Kind Regards,
NHS Nottingham and Nottinghamshire CCG
Engagement Team
Breakaway Group in Beeston
The Breakaway programme is open to 14-25 year olds with learning disabilities and autism. We use music, art, dance and drama, as well as other creative expressive arts, to increase the young people's independence, communication, resilience and leadership skills as well as increasing their emotional literacy. We do this by exploring various topics such as the right to vote, loneliness and isolation, social action, their right to work as a disabled young person and freedom & rebellion. This leads to opportunities to share their creative pieces at community events and internal showcases.
The group is based at Middle Street Resource Centre, in Beeston, every Wednesday during term time. Arrival is between 3.30 and 4, with the group finishing at 6pm. The group is free to attend and there are free sandwiches on arrival and free cold refreshments throughout the session.
Contact Ella for more information.
Ella.m@transformtraining.org.uk
OneFest – a one week festival for people we support and their carers in Mansfield / Ashfield area
20th - 26th June 2022
OneFest is a week-long arts and culture festival held across Mansfield and Ashfield that has the primary aim of reducing the stigma and segregation learning disabled and autistic people face on a societal level.
More information can be found on their website:
https://onefest.oneconversation.co.uk/about-one-fest/
Please accept our apologies if you are no longer a carer, if you would like us to update your records and remove you from the mailing list please get in touch: nottinghamshirehub@tuvida.org / 0115 8248 824.
Best wishes and take care.
Nottinghamshire Carers Hub
TuVida | 19 Pelham Road | Sherwood | Nottingham | NG5 1AP
E: nottinghamshirehub@tuvida.org
T: 0115 824 8824