20th January 2022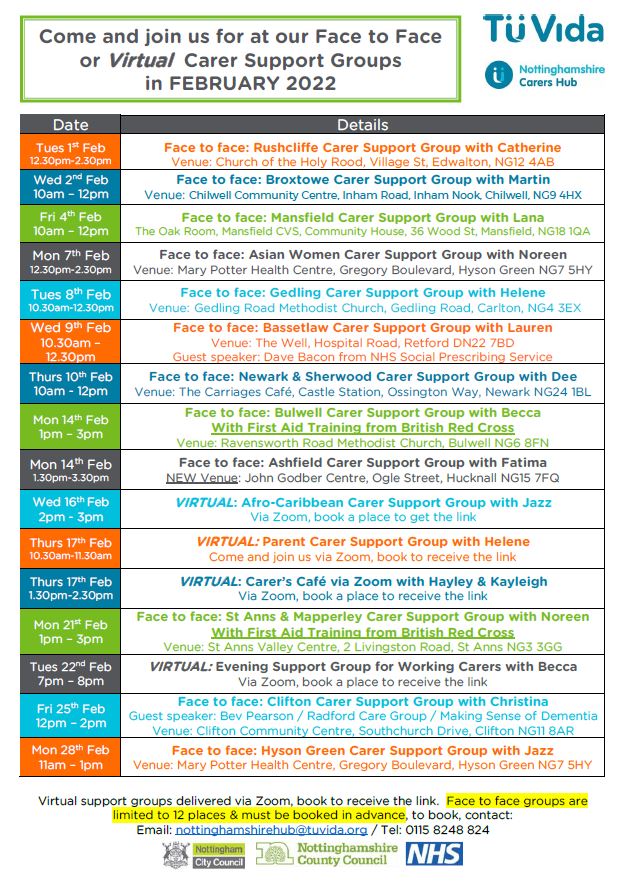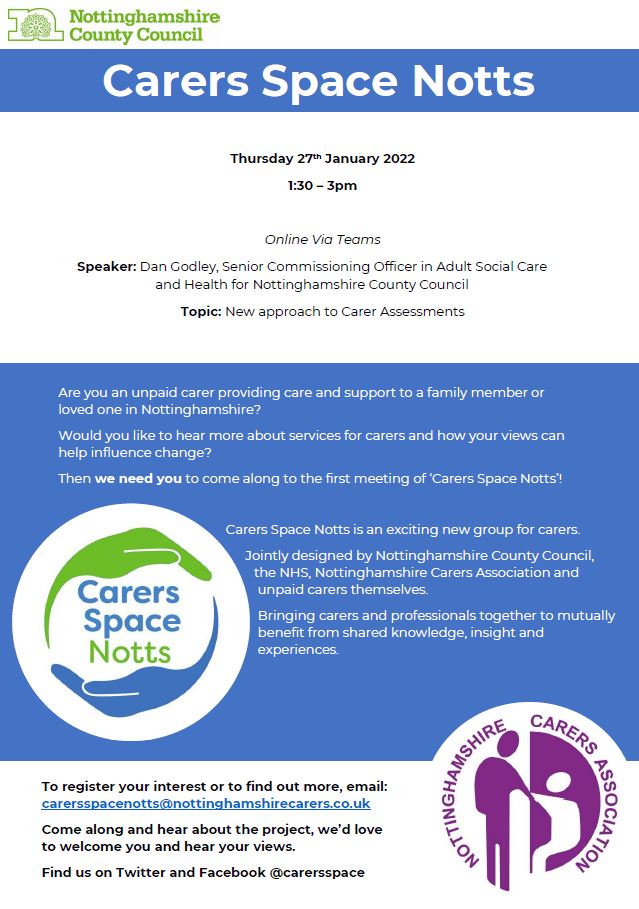 Valentines Event for Carers and their Loved Ones
The Volunteer Service would like to invite carers and their loved ones to a special lunch to show just how much they are appreciated.
There will be afternoon tea, refreshments and a free raffle, see dates and venue options below (flyer attached):
Thursday 10th February

12pm-2pm

The Ashwood Centre

Portland Street

Kirkby in Ashfield

Nottinghamshire

NG17 7AB

Friday 11th February

12pm-2pm

Middle Street Resource Centre

74 Middle Street

Beeston

Nottinghamshire

NG9 2AA

Monday 14th February

12pm-2pm

Kilton Forest Golf Club

Blyth Road

Worksop

Nottinghamshire

S81 0TL

Friday 18th February

12pm-2pm

Clifton Community Centre

14 Southchurch Drive

Clifton

Nottingham

NG11 8AR
To book your place contact: 07860 957 571 or email: volunteer@tuvida.org
Information for Carers from other Service Providers:
Carers Space Notts (County Carers)
Thursday 27th January 2022 / 1:30 – 3pm
Online Via Teams
Speaker: Dan Godley, Senior Commissioning Officer in Adult Social Care and Health for Nottinghamshire County Council
Topic: New approach to Carer Assessments
To register your interest or to find out more see attached flyer or email: carersspacenotts@nottinghamshirecarers.co.uk
_____________________________________________________________________________________________________________
Autism Strategy Development
The Nottingham and Nottinghamshire ICS are looking at the way people with autism are supported from before their diagnosis through to end of life.  We want to plan how to improve services in the future and how best to implement the national strategy locally and we would like your input into this.
We want to make sure that the right services are provided at the right time for children, young people and adults before they are diagnosed, immediately after diagnosis and over the longer term.  We also need to ensure that we provide the right support to the families and carers of people with autism. We value your input as people with autism, carers and those working with people with autism as you are likely to know what people need and want, where there are any gaps in service provision and where improvements could be made. 
You can provide your views by completing the questionnaires using the following links and feel free to share with your contacts.
The closing date for responses is 28th January 2022 so please share your opinions with us.  They will help us to plan future services and what you tell us will help us to see what may need to change in the future. There will be further opportunities to contribute to this work over the coming year as work is done to develop an action plan for implementing the strategy.
____________________________________________________________________________________________________________________________
Spring 2022 Arthritis Action
Join us at an Arthritis Action Group to meet other people living with arthritis and share tips and experiences. Groups are friendly and we actively welcome new attendees. We discuss a variety of self-management techniques. Participants will need to contact us directly for the log in instructions for the meeting, and we have produced 'How To' guides for those not familiar with using Zoom.
| | | |
| --- | --- | --- |
| 11am | Fri 14th Jan | Online Coffee Morning |
| 6pm | Mon 17th Jan | Evening Online Group |
| 2pm | Tues 18th Jan | Online Afternoon Group |
| 2pm | Wed 26th Jan | Online Afternoon Group |
For more dates and to join see http://www.arthritisaction.org.uk/media-centre/events  
____________________________________________________________________________________________________________________________
Do you look after someone with dementia? Specialist information is now available for YOU
Radford Care Group are pleased to announce their next Programme for carers of those with dementia at
ARNOLD METHODIST CHURCH 54 FRONT STREET ARNOLD NOTTINGHAM NG5 7EL
from:
Wednesday 9th February – Wednesday 23rd March 2022
1.30 p.m. – 15.30 p.m.
Making Sense of Dementia
What carers need to know
This programme of special support sessions for carers of people with dementia will give an improved understanding of all aspects of dementia.
The free seven week programme has experts guiding the group and also offers mutual support from other carers, refreshments and a chance to get your questions answered in a relaxed and informal setting. Help with respite care will be available (subject to suitability / government covid guidelines).
Booking is required*. For more information or to reserve a place please contact us on 0115 9786133 or email info@radfordcaregroup.org
or Bev Pearson on 07745 956880 or email bev.pearson@radfordcaregroup.org.uk
Carefree Breaks: Free accomodation for unpaid carers!!
How it works
ACCOMMODATION
Thanks to the generosity of Carefree's Hospitality Partners, they are able to offer short breaks at minimal cost for full-time unpaid carers in need of some time off. There are two options:
HOTEL: 

1-3 nights with 1 companion (adult or child). Twin or Double room. Breakfast included.

HOLIDAY COTTAGE: 

7 nights with 1 adult companion and/or up to 2 children. Self-catering.
REFERRALS – Carers Hub can make referrals to CareFree Breaks on behalf of the carer.  Nottinghamshire Carers Hub are registered referrers with Carefree – call them on 0115 824 8824 or email nottinghamshirehub@tuvida.org
COSTS - there is no charge for the accommodation but you are responsible for all other costs (transport, food, travel insurance etc.) and there's a £25 admin fee to help with the cost of operating our charity.
CARE-FREE – the short breaks initiative is specifically designed to give carers some time away from their caring responsibilities. You are welcome to take a companion with you but not the person that you care for. If you can't go away for more than one night, that's OK. If you want to travel alone, that's fine too.
ELIGIBILITY - to qualify for a break you must be:
Aged 21 or over

Full-time unpaid carer (30+ hours pw)

Able to arrange interim care

Able to pay for extras (admin fee, transport, food, travel insurance etc.)
Please note: only one carer per household can sign up with Carefree, so if e.g. you and your partner both care for your child, only one of you should self-refer. (You will however, be able to bring a guest, which could be your partner, along with you to your break).
Help to keep people safe from Covid-19 – Take care of each other
Nottingham City Council and the NHS want to understand why people might not get their jabs.
They are holding discussion groups to look at the main issues and barriers and need people to take part in these discussions who come from the Black Caribbean community and the Chinese community.
Fewer people in Nottingham have had their Covid-19 vaccination than in other parts of the country. The number of vaccinated people in our city's diverse
communities is lower still.  We want to understand why. We believe vaccination offers the best defence against Covid-19 – and we want to keep people in our city safe.
People who take part will be paid £50 in vouchers. To find out more see the attached flyer and email:
Jade Farrell at jade.farrell@nottinghamcity.gov.uk