5th January 2022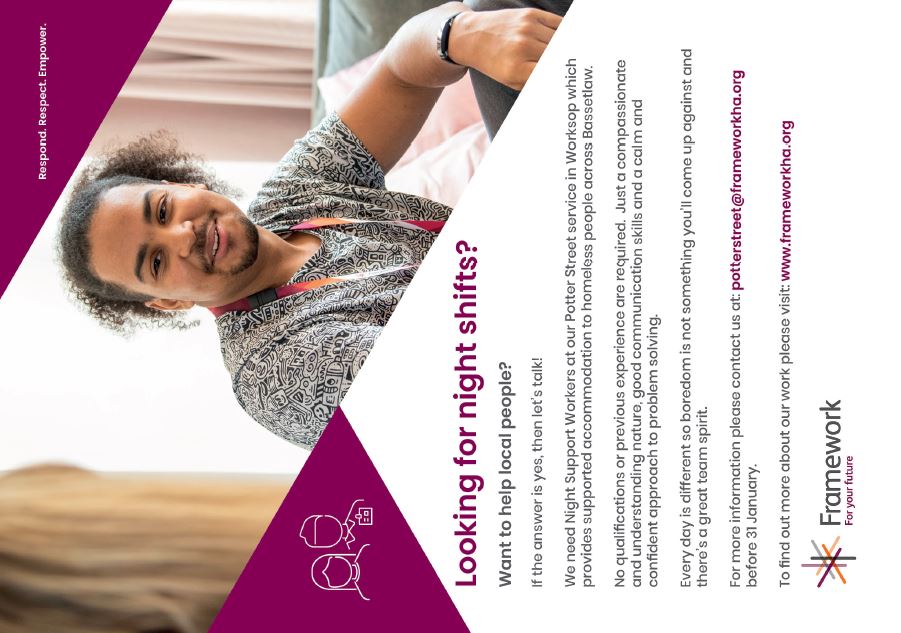 'Would working nights fit around your personal and family needs?'
How about doing so with the added benefit of knowing you'll be making a difference to homeless and vulnerable local people in and around Worksop?
Sound good? Come and speak to us about the Night Support Worker vacancy in our Potter Street team
(37 HOURS PER WEEK)
£17,189 - £18,661 PLUS 7.5% ENHANCEMENT
(FOR HOURS WORKED BETWEEN 10 PM AND 7 AM)
We provide high quality, accommodation for up to 12 homeless and vulnerably-housed people within Bassetlaw and are looking for a new addition to the team to help ensure the safety and well-being of residents overnight and at weekends. Yes, the job can be challenging but it's also incredibly rewarding for someone looking to make a genuine difference in people's lives.
For an application form or more information please contact the service at: potterstreet@frameworkha.org
Job Description/ Person Specification