8th April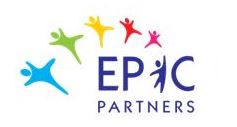 An exciting opportunity has arisen for an experienced, highly skilled Head of Training & Education to join Epic Partners a local dynamic and passionate charity that delivers high-quality services assisting some of the most vulnerable people within our society.
We are a forward-thinking charity that is embarking on a path of growth and development, and this is an interesting and challenging role that has responsibility for ensuring high standards of development management across a varied portfolio of activities at a time of expansion. We are a small team of specialists that possess a diverse set of skills, ranging from sports programme facilitation to education and teaching programmes. Our staff are drawn from a variety of backgrounds, but we have one common purpose, to enrich the lives of the communities that we serve.
We are looking for a highly motivated and influential individual to oversee and manage the Training & Education department. The role will involve a high level of autonomy in all areas of managing and assisting with the growth of EPIC PARTNERS as a whole. You must have a high level of training and education delivery knowledge with an ethos and hunger to expand the services offered and exceed targets to ensure service users receive the maximum support possible. The role will take a lead in the strategic development of education across the charity, proactively pursuing opportunities to develop our education and training activity and maintaining and developing our online resources to ensure that the needs of both current and new beneficiaries are met. You will have responsibility for the efficient running of our Training & Education Programmes and will contribute effectively to decision making within the organisation.
The successful candidate will be an excellent communicator, with a solid understanding of the community education sector and experience in successfully developing and launching new educational services. You will be a proactive collaborator with the ability to manage teams, projects, budgets and strategic plans and have the experience of planning, writing, overseeing and facilitating/moderating written course content from inception to publication and will be able to demonstrate experience in learning management systems and online learning.
We are looking for a high achiever who has the drive and ambition to progress in a forward-thinking organisation. Epic Partners are committed to safeguarding young people and vulnerable adults and the post will require current DBS clearance.
Job Types: Full-time, Permanent
Salary: £30,000.00 per year
To apply please send CV to paul.naylor@epicpartners.co.uk